Projects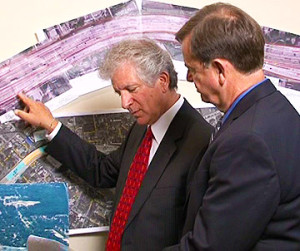 Duval County
STATE OF FLORIDA, DEPARTMENT OF TRANSPORTATION
The Florida Department of Transportation currently has almost 30 active projects and almost 30 future projects in Duval County, including the widening of I-10 from I-295 to I-95 and interchange improvements at I-10 and I-95 and I-295 at Collins Road. Click the link below for more information on active and future projects in Duval County.
JAX MOBILITY WORKS
Jax Mobility Works, a joint effort of the City of Jacksonville and the Jacksonville Transportation Authority, are planning for and moving forward with the acquisition of property for numerous projects in Northeast Florida. Three current projects are:
Widening of Chaffee Road between 103rd Street and Crystal Springs Road.
Widening of Old Middleburg Road between Collins Road and 103rd Street.
Widening of San Pablo Road between Beach Boulevard and Atlantic Boulevard.
Jax Mobility has tentatively identified the parcels to be acquired utilizing the power of eminent domain for each of these projects. Click the link below for more information.
EMERALD TRAIL
Groundwork Jacksonville has prepared a Master Plan and Implementation Strategy report as a guide for the implementation of The Emerald Trail. The proposed project consists of two tiers. Tier One is 6.8 miles and includes a proposed 1.3 mile long S-Line to Brooklyn. Tier One and Tier Two consist of 19.7 miles of beautiful new trails that will loop through and encircle downtown Jacksonville. The new trails will connect 15 neighborhoods and downtown Jacksonville and will go to 2 colleges, 16 schools and 21 parks. The proposed trail segments, along with the six miles of trails that already exist, will include 33.8 miles of trials. The Emerald Trail will provide beautiful, safe, convenient trails to the citizens of Jacksonville. A multi-use greenway trail facility is the proposed primary type of trail with secondary types to include the green alley, raised cycle track, shared-use street, shared-use path, and neighborhood greenway. Phase 1 of the project is from Leland Street to Myrtle Avenue. This phase proposes the permanent closing and removal of a low-lying section of McCoys Creek Boulevard. Phase 2 of the project is currently in the design phase. This phase is from Myrtle Avenue east to the St. Johns River. This proposals in this phase will remedy the flooding of McCoys Creek. The report can be found at https://www.groundworkjacksonville.org/emerald-trail/.
City Councilman Matt Carlucci is in favor of allocating $132 million from the proposed conversion of the Skyway project to use for The Emerald Trail project. Mayor Lenny Curry supports the funding as well. The Emerald Trail project is just one of several proposed projects that would potentially be funded by doubling Jacksonville's local gas tax. The gas tax legislation would still leave the Jacksonville Transportation Authority with $229 million in the Jobs for Jax project list for the Skyway conversion project. It is uncertain at this time what private property, if any, will be acquired for this project. However, due to the fact that the project is in older areas of town, properties could be affected due to unanticipated issues. The project is considered an investment in the quality of life of Jacksonville's residents.
If you have any questions regarding this project or any other roadway projects that could affect your property rights, call us at 904-396-1900 or email us at fiy@fiyattorneys.com.
St. Johns County
St. Johns County is currently moving forward with a project to widen CR 210 between I-95 and US 1. Appraisals are currently underway and initial offers will be made to property owners in the next few months. Click the link below for more information.
http://www.co.st-johns.fl.us/engineering/CR210.aspx#.YIhUzdVKjmg
Clay County
The Florida Department of Transportation is finalizing plans to widen CR 220 in Clay County from Henley Road to Fleming Island. Appraisals are underway and initial offers will be made to property owners in the next few months. Click the link below for more information.